Delco RRC Hosts 2022 XC Championships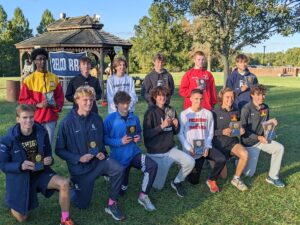 John Greenstine
The Delco Road Runners Club again successfully directed the annual Delaware County high school cross country championship meet at Rose Tree Park on October 8. Beautiful weather prevailed as 442 high school runners completed the hilly 3.1 mile course. They were from 18 public, private, and parochial high schools all located in Delaware County.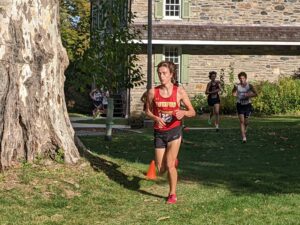 John Greenstine
Five races were held. Haverford dominated the girls varsity race with 42 points while Notre Dame was second with 98 and Springfield placing a close 3rd with 100. Haverford sophomore sensation Olivia Cieslak led all runners to the finish line with a time of 18:42. Episcopal Academy varsity boys won their first ever Delco championship with 36 points, Penncrest was second with 57 and Haverford was third with 69. The boys individual champion was Patrick Lawson, a senior from Haverford. His time was 16:01.
Meet directors John Ashton and Byron Mundy thank all the club members who helped conduct the meet, including Jen Powers, Mike Tiedeman, John Baron, Mike Metague, John Greenstine, Frances Kirk, Andy Keller, Mark Draper, Theresa Gagliardi, Mary Beth Mundy, Larry Filtz, Nick Sacchetti, and Bill Coren. Also many thanks to the Delco Parks and Recreation for providing several marshals to control traffic and parking during the meet.