Tyler Arboretum 10K Trail Run LIVE on November 7th!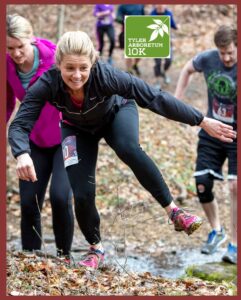 Dave Crossett
Delco RRC is proud to announce that the Tyler Arboretum 10K Trail Run is set for a LIVE race on November 7th, and a new virtual race has been added. A new format has been set for safety. And volunteers are greatly needed to make this a success.
The live run registration is now closed. All new entries will be for the virtual race. Registration for the virtual race is at Tylertrailrun.com. The fee is $30.
We must run the live race under the PA state mandate of less than 250 people on-site at the Arboretum. With 350 runners, plus volunteers and staff, we need to stage two heats:  MEN ONLY at 9:00AM and WOMEN ONLY at 11:00AM. Awards will follow each race. 

Please avoid bringing family and other guests. Racers only this year! This is for our mutual safety. 
If you MUST race in the other gender race (you really want to run with a significant other, etc.) due to scoring and timing issues you CANNOT win a medal in your gender. We apologize for the inconvenience, thanks for your cooperation!
We will do as much as we can outdoors, including number pickup, gifts and awards. Masks will be required everywhere on the site before and after the race.
The club will also offer to convert existing entries to the virtual run. The details are simple: Register at Tylertrailrun.com. On the weekend of November 7-8, use a GPS to run a 10K on your favorite trails. Send an email with details of the run to Tylertrailrun@yahoo.com. Photos are welcome, too. You will get the fabulous Tyler Trail Run gift. No awards will be given, but your run will appear in a special virtual finishers list.
Please join our great volunteer team! Volunteers may contact Terry Adamson (Terry.A.Adamson@gmail.com) to help make this the best "Pandemic Race" in the area.